cradle of hills name and logo
cradle of hills name and logo
Our Name
The cradle of hills name was coined on September 1, 2011, by our daughter Gigi Smith.
Below is the actual story describing what happened, as published in The Poppy a bimonthly journal, which Tracy writes for.
"...I would also like to share a lovely story which has had us charmed for the past two weeks. Driving home one evening, we each noted the suns last glow on the magnificent backdrop of the Willunga-Sellicks escarpment, which extends, in great rolls and soft folds, from the Adelaide Hills down to the sea, at Sellicks Beach. This view is remarkable. My daughter, G. made the comment 'Mum, I love this cradle of hills. It makes me feel safe.'

"I was dumbstruck and a little bit teary, realising that my daughter was really telling me that she has finally settled here and accepted this as her home. What a phrase, 'cradle of hills'! We have searched long and hard and created an enormous list, of possible names for our wine label over the last 4 years, hoping that one would leap out and describe how we feel about our new home and farm. Well, 'cradle of hills' has now moved to the top of that list."
Full Poppy article available by request - please contact us.
Copyright applies
Our Logo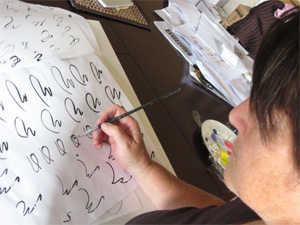 The cradle of hills logo was created during September 2011 by Tracy Smith, co-owner and vineyard manager of cradle of hills wines. She used black ink and a bristle brush then added the dot using shiraz lees which had just been taken from a Shiraz racking in the winery, by Paul.
In an excerpt from Tracy's regular article published in The Poppy journal, she writes how the logo was developed:
"...On the winery front, we are now just a hair's breadth off finally having wines ready for sale with a label design meeting having happened just today. I wrote about our new label name coined by our daughter G. in the last Poppy, "cradle of hills". Well, this name has been made official now. Then, last month in the search for some artwork which looked 'hilly', I set about dusting off my old brushes and pens which I used as a designer, in my last life...

"After literally hundreds of tries, my hand made a sweeping stroke and our new symbol was born. It is rustic and calligraphic and will be revealed here in its very first printed version. Words and legalese are to be added, but I thought the Poppies might like a preview. Now, back to the weeding..."
Full Poppy article available by request - please contact us.
Copyright applies