Our Story
...wines from the cradle...
Profile of Paul Smith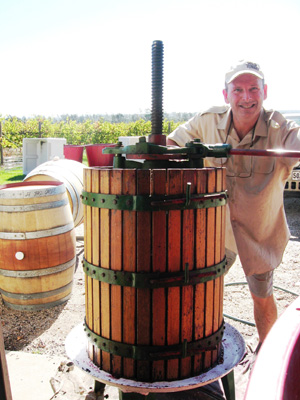 A favourite wine from our range is called Route du Bonheur, or, Road to Happiness. This name symbolises my own journey, my passion for wine and tradition, with a 'twist'. And what a journey it has been!
During vintage each year, nothing beats soaking up the heady aromas wafting up from an open vat of recently crushed red grapes! Hand picking, hand sorting, hand plunging, basket pressing, it's all hands–on, physical work for 6 to 8 weeks. But the aches and fatigue fade, when you finish basket pressing your own wine into barrel and admire the vibrant colour and taste the lively flavours of a new vintage.
I got bitten by the wine bug early - I was 19, I had just joined the Navy and was introduced to wardroom life and more importantly the wardroom cellar! Back then, wines that grabbed my attention were: Reynella Basket Press Cabernet Sauvignon and d'Arenberg's Red Burgundy. I marvelled at the dynamics of wine, it's complexity with age, and, it's ability to synergize with food, good friends and good music!
I met Tracy, my soul mate, who has had a career in horticulture. As a team, we believed we had the passion and drive to follow our dream to one day grow and produce our own wine. A career change took me into the world of high performance sports. I enjoy the pursuit of excellence, the risks and the commitment. This ethos proved to be integral for success in both industries.
My passion for all things vinous, continued, as I tracked down wines and winemakers from all over the world for memorable tastings and discussions. In France, during our wine travels, I saw a life where what is eaten and what we drink, really matters, every day. The French gave us this gift to our world. Seeking out both famous and obscure wineries, struggling through broken-Italian and fragmented French. Memorable: Gigi Rosso (Piemonte), Renee Tardy from Nuit St. Georges (Burgundy) and Patrick Gerant from Chateau la Fleur Peyrabon (Pauillac).
The lessons learned were precious: how wine quality is determined predominantly in the vineyard, the importance of wines reflecting where they are grown, (i.e. their terrior or 'sense of place') and achieving balance and complexity by using a "less is more" or minimalist approach in winemaking.
The long journey led us to making our beautiful vineyard in McLaren Vale 'home' with a winemaking diploma along the way, to understand the science behind artisan-winemaking.
It has been a road to happiness (which is why we called our first wine 'Route Du Bonheur'). We have found a place where Rhone varieties, Grenache, Mourvedre and Shiraz thrive in Australia. McLaren Vale remains one of the world's best kept secret. With the vineyard, we have olives, an orchard, gardens and chickens, for our own use.
Our wines are all hand crafted here, in this cradle of hills.
Profile of Tracy Smith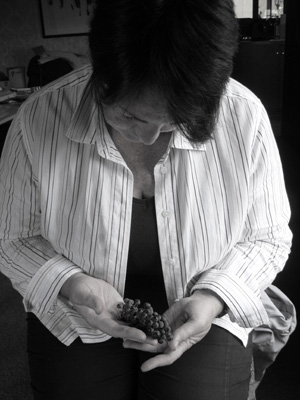 From an early age I was fascinated by nature: plants, in particular. Growing up on a small, mixed farm (near Ballarat, Victoria), does that to you.
Some of my earliest memories include digging a veg garden and buying seeds with pocket money, sitting in a Beurre bosc pear tree munching pears till dusk and telling my most secret thoughts to an old ghost gum (E. maculata).
One of ten children, our games were physical and noisy; we could disappear all day to build cubby houses, ride horses bareback or explore the old goldmine caves, up on the back block. I have many magical memories.
No surprise, then, that I went on to study Botany, then Horticulture in Melbourne, to happily emerge into a career working and lecturing in the same.
Meeting Paul was a blessing in many ways. We share a love of our farm, well-made 'slow' foods and wines, music and good friends.
From 2005 we travelled the world with our two children, spending a couple of years in Europe, working and learning about the great wine regions and how fine wine is made.
With science and organics as a backdrop and a passion, I care for our vineyard in McLaren Vale, to provide the best, most beautiful fruit I can, for Paul's wines. It has taken years of thinking, planning and working to produce this fruit sustainably.
We live at our vineyard farm and sleep only metres from our vines. The wine we make captures the essence of this life.