Our Vineyard
...wines are made in the vineyard...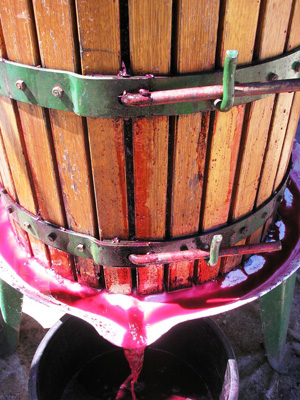 At cradle of hills we have 17 acres of ultra premium Shiraz and Cabernet sauvignon grapes grown using organic practices and the sustainable use of resources. We have watched this approach yield superior grape quality and flavour evidenced from the moment our wines are experienced.
Sustainable/Organic practices include:
No use of herbicides.
Biodiversity plantings.
Habitats for Native Falcon and Brown snakes.
Organic additives kelp and humus.
Recycled water use.
Minimum tractor passes.
Our wines are all produced here, in this cradle. They 'sing'.
Winemaking at cradle of hills
Winemaker Paul Smith takes a minimal intervention approach including the following strategies in winemaking:
Small batches, hand sorted where practicable of a maximum 1.5 tonnes per vat.
Open vat fermenting with hand plunging of the cap, 3-4 times per day.
Strict control over fermentation temperatures ensuring long slow ferments.
Minimal and appropriate needs-based sulphur additions only.
Maximising skin contact time (up to 3 weeks).
Use of a gentle hand-operated basket press.
Ageing on lees in well-seasoned oak.
Regular lees stirring once in barrel.
Minimal racking.
No filtering or fining products used.
Extended barrel aging before bottling.